TECNO is a global manufacturer of top-notch smartphones with one mission in mind: to deliver the highest quality mobile experience. Achieving this requires high standards, which are met by their three core technologies–the latest Snapdragon processor, FullView display and TECNO CamPlus camera system.
The "camon" is a camera technology that will be released by TECNO in 2022. The company has also announced three Global Leading Camera Technologies.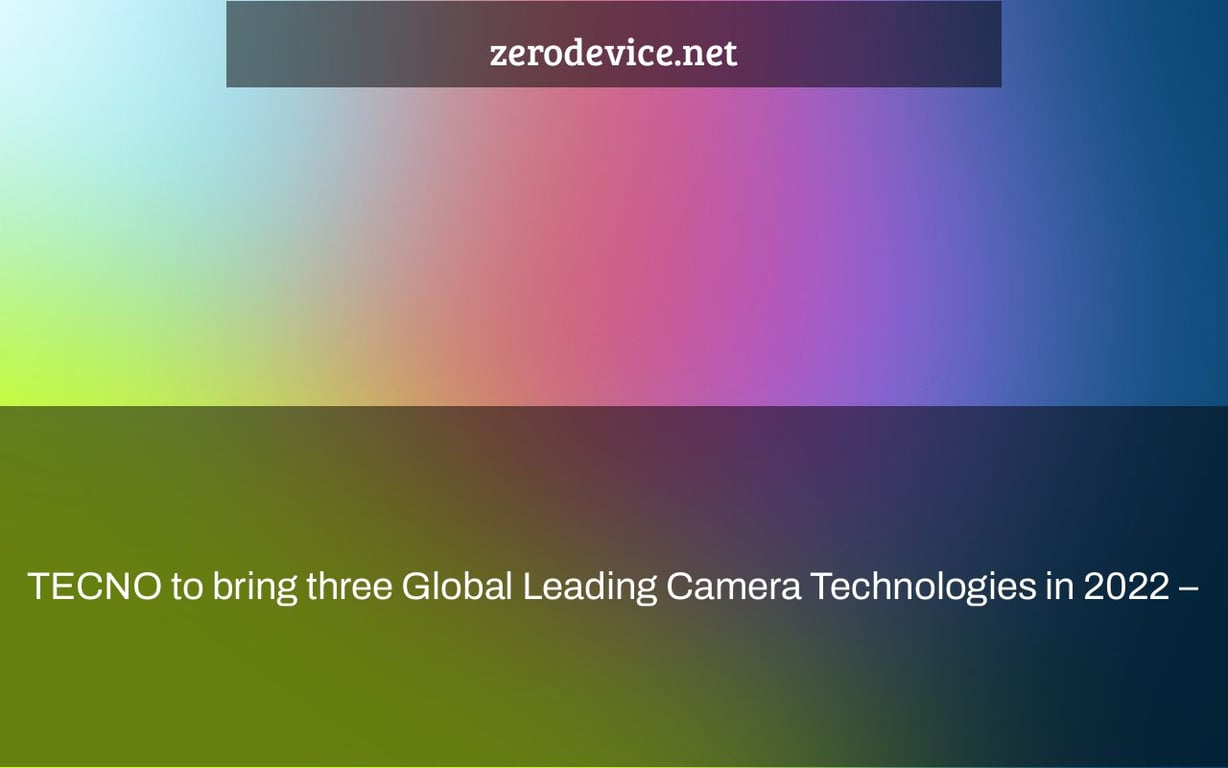 TECNO, an inventive brand, revealed its future ambitions for camera technologies, spoke with industry experts about imaging technologies, and presented recent corporate breakthroughs.
At Counterpoint's webinar "Global Mobile Camera Trends 2022: Innovation Talk," the premium smartphone brand TECNO recently revealed its newest advancements and accomplishments in imaging technology.
The webinar included industry leaders and world-renowned speakers discussing mobile imaging technology and advancements.
TECNO emphasized the brand's breakthroughs in distinct complexion identification, such as dark complexion imaging, during the webinar. TECNO has also worked on picture and video stabilization, zoom, and camera resolution, using RGBW and G+P, Sensor-Shift, and Telescopic Lens technologies.
The Future of Imaging Technology
TECNO is a worldwide leader in imaging technology innovation trends. It is expected that by Q1 2022, TECNO will have such sophisticated items on the market that customers would be able to record with a professional studio-like sensation. TECNO will concentrate on bigger sensor sizes, picture and video stabilization, high-frequency anti-shaking capabilities, and continuous zoom to provide users with unique camera characteristics.
"One of the reasons for TECNO's success in the worldwide developing markets is the leading camera technology," said Li Jiangtao, Senior Director of TECNO Imaging Product and Head of TAIVOS Lab. We at TECNO are always improving our Image Technology to create advances in mobile imaging technologies, with our brand philosophy of 'Stop at Nothing.' To achieve cutting-edge image performance, TECNO will continue to strive for excellence in AI-enhanced algorithms and software, as well as hardware specs."
Furthermore, TECNO discussed some recent successes in Mobile Camera Technology with webinar attendees, as well as items that TECNO would be focusing on in the future.
1. Greater sensitivity to light
TECNO's forthcoming phones in 2022 will be driven by a self-developed RGBW sub-pixel rendering technique that boosts the CMOS sensor's light collection by 60%. A 30 percent increase in light intake will be noticed thanks to the G+P (glass + plastic) lens technology, resulting in a 200 percent boost in low-light image experience for customers.
2. The first Android phone to have a Sensor-Shift feature.
TECNO aims to offer its Sensor-Shift smartphone on YouTube in 2022, making it the first Android phone company to do so. Sensor-Shift image stabilization compensates for vibrations by using sensor movements rather than lens movements. With additional algorithm improvement, TECNO will achieve 350 percent of the present level of control precision of Sensor-Shift, allowing users to take studio-quality photographs with more steadiness.
3. In Q1 2022, a concept phone with a telescopic lens will be released.
In Q1 2022, TECNO wants to release its first prototype phone with a telescopic lens. The telescopic lens has a wide aperture and continuous lossless zoom, allowing users to get superior telephotograph quality as well as multi-purpose usefulness.
Furthermore, a compressed rear focal length (BFL) design with motorized stretchable lenses would drastically lower the phone's thickness, balancing the expectations of customers for a simple look and great performance.
TECNO has earned a reputation for itself in the worldwide developing markets as a well-known company. Through visual innovation, the brand aspires to enable customers to represent their lives. Follow TECNO on all of its official social media platforms for additional information.
This post includes sponsored material that has been approved for publication after being reviewed and determined to be a suitable match for's audience. Learn more about our sponsored articles to see what types of material are permitted.
Watch This Video-
Related Tags
best cameras for photography
good photography cameras